Hers & His strives to provide exceptional
customer service during each and every service call.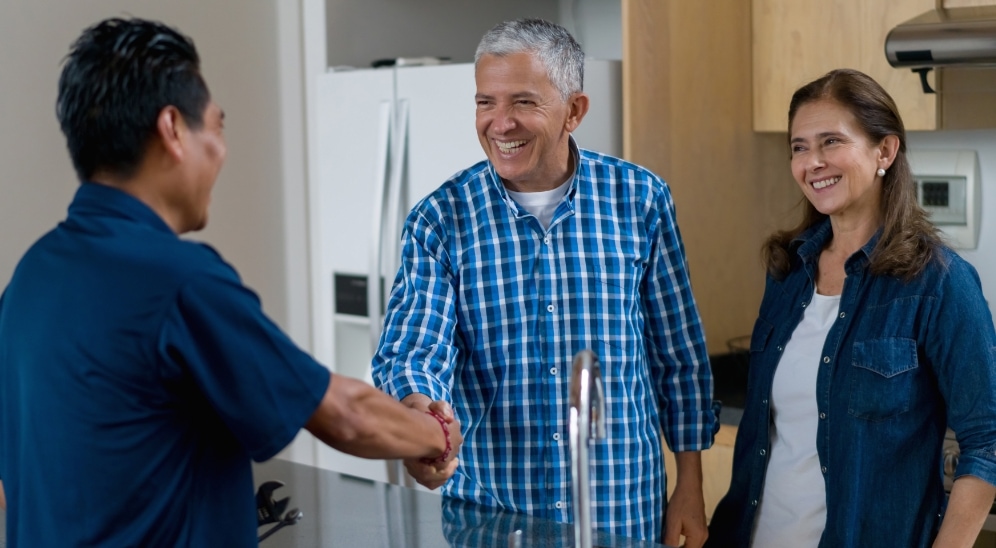 Hers & His strives to improve business-to-consumer relations by strictly adhering to our company's Guiding Principles. Through our 100 percent satisfaction guarantee policy, we work with homeowners/property managers to confirm the work is performed to your satisfaction or we will return to correct it to your desired result.
In addition to providing services to homes and businesses directly, Hers & His provides residential services through home warranty and utility company partnerships. Through a home warranty policy, homeowners can receive our award-winning service for only the price of a low or no deductible. The home warranty company picks up the rest of the bill.
Hers & His has licensed and certified plumbers to assist you with any routine or emergency plumbing needs. Whether it's a new installation or plumbing repairs, contact Hers & His to schedule your appointment today!
Water heaters can encounter problems during their life spans as they can leak, become unresponsive, or even consume more energy than they originally did. During this frustrating situation, your best solution is to hire a water heater expert to inspect the condition of your water heater.
Prevent future problems and unwanted costs with biannual maintenance. Maintaining your system will save you money on energy bills and help your system last longer.
We install high-efficiency heating and air conditioning systems using only the highest quality equipment provided by the industry's best suppliers. These systems pay for themselves through significant energy savings and by requiring much less overall maintenance.
WE TAKE PRIDE IN OUR WORK
"We recently noticed a small trickle of water coming from our hot water heater and being relatively new to Pensacola, we asked our next door neighbor if they could recommend a quality, honest, and prompt plumbing service. Without hesitation he said to try Hers and His plumbling as theyve done many jobs for them over the past 20 plus years. We called and got an appointment the very next day! Terry was punctual, he quickly diagnosed the issue and promptly went to secure the new hot water heater and required code attachments. The price was fair, the service was impeccable. He was clean and has a great demeanor! He took the time to look at other minor issues we had around the house and offered low and no cost remedies. The heater developed a small problem and he promptly came back and rectified the situation. ( it was an internal issue caused by the manufacturer) I would recommend Terry and Hers and His plumbing services to anyone. Word of mouth advertising is priceless and it's the very least I could to to pay it forward! Terry and Hers and His plumbing has a customer for life and a champion for the company! 10 out of 10 friendly knowledgeable local service!!"
- Steven S.
"Hers & His Plumbing is an outstanding company. I give you Ten Stars out of Five! THANK YOU! My home warranty company, Old Republic Home Protection, contacted your company. Casey Valentine arrived around 9:30 am and used the auger to fix the clog…within seconds. I had tried a DIY FIX using vinegar, baking soda & hot water and let it sat overnight but that didn't help. Casey was very professional and friendly and knowledgeable. Hers & His has been dispatched to my home in the past for a couple of other repairs. Michael was her in Dec 2022. I live in Niceville, Florida (the Panhandle near Destin, FL). Brianna in your office is delightful and very knowledgeable and helpful. Have a wonderful fall and holiday season! You are the best!"
- Paula P.
"Joshua & Laquann we're fantastic. They came in, diagnosed unknown to us the age of our a/c unit. We learned our unit was 15+ years old and would need a replacement & offered financing & maintenance for our current unit. Thank you for all of your help and hard work."
- April S.

Residential Heating, Air Conditioning, and Plumbing Maintenance in Orlando Florida and the Surrounding Areas
Many local residents do not realize their home heating and air conditioning system operates approximately 3,300 hours per year.  To put this "run time" in perspective, a car driven for the same 3,300 hours at 65 miles per hour would travel 214,500 miles.  No one would consider such a journey without arranging for oil changes, lubrication, and routine tune-ups along the way to assure the efficiency, safety, and reliability of the vehicle.
Your home heating and air conditioning system serves you many more hours than your car, and, like your car, needs routine tune-ups to operate in an efficient, safe, and reliable manner.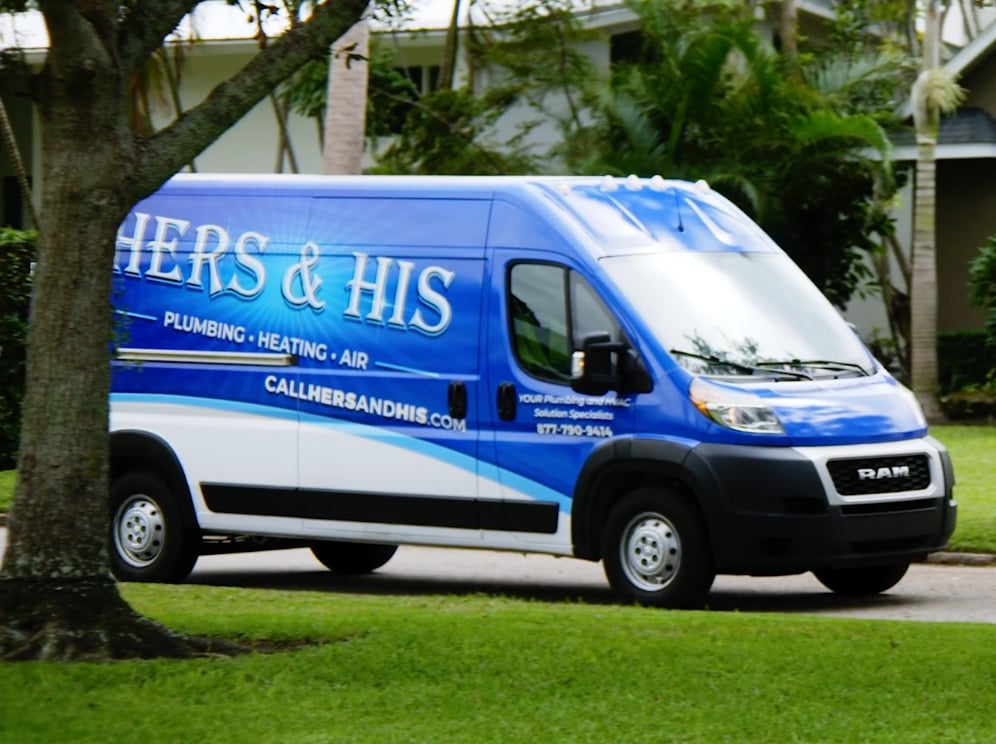 APPLY FOR A POSITION WITH

HERS & HIS PLUMBING
We're growing. We're adding service lines. We're getting rave reviews. Why? Because we hire great people and we treat them as they deserve to be treated!
Hers & His Plumbing Guiding Principles
Always take care of the customer
Have fun
Be honest and clear
Prepare for what's next
Safety first
Learn from your mistakes
FINANCING TO FIT ANY BUDGET
We offer financing options for the services our company will provide for your home.
These are the benefits of financing through us:
Monthly payments to fit your budget
Special terms promotions available; ask for details
Online account management and bill payment options
With approved credit. Ask for details.
Homeowners generally favor heat pumps for their efficiency. However, a number of common issues can cause them to run very inefficiently.
Read More